This week in ___ennials: Everything You Need to Know About the Bi, the Tri and the Bruce 
WHITNEY BIENNIAL
March 1 - May 27
Installation View (via Artinfo)
The 2012 Whitney Biennial, curated by Jay Sanders and Elisabeth Sussman (of 1993 Biennial fame), opened last week amidst protest by a coalition of Occupy groups and locked-out Sotheby's teamsters, not to mention the open letter to the museum by Arts & Labor that hit the interwebs a week prior calling for an end the biennial and subsequent prank email announcing that the museum would break from two of its most contentious sponsors, Sotheby's and Deutsche Bank that was quickly determined to not, in fact, be from the Whitney's PR department. (Historical note: In 1970, the Ad Hoc Committee for Women Artists released a prank press release announcing that 50% of the artists in that year's Whitney Annual would be women. Artinfo has compiled a handy list of anti-Biennial gestures through the years.).
Perhaps appropriately, this is a subdued Biennial with fewer artists than in 2010 and less monumental artworks. Time-based media seems to finally be getting its due recognition and room to breathe. The curators have set aside an entire floor of the museum for rotating performances from the likes of Sarah Michelson and Charles Atlas.  The strong film program, curated by Ed Halter and Thomas Beard will include work by the late Mike Kelley  "Our ideal viewer would come back a number of times," Sanders explained.
Roberta Smith of the New York Times calls this "a new and exhilarating species of exhibition, an emerging curatorial life form."
…this Biennial tacitly separates art objects from the market and moves them closer to where they come from, artists, whose creative processes and passion for other artists' work are among the show's unstated yet evident themes…
GalleristNY's Maika Pollock writes that
This Biennial suggests that right now is a great moment to be alive—and it comes as some relief that someone is saying this about American art (and perhaps by extension about American life?) in the spring of 2012.
At Artnet, Emily Nathan calls this "one biennial you actually need to see" and "an appealing combination of the accessible and the conceptual."
Jerry Saltz's New York Magazine review is a little more nuanced, he calls the show a "quiet, incomplete manifesto" and concludes that
 Art is in the process of changing, shedding dead skin, reorganizing some of its structures, and steering its palliative way out of the overheated period we've been in. This enticing, flawed manifesto of an exhibition is a peek into this process.
Capital's Piper Marshall contends…
…the show is simply eclectic, and not much more; viewed as an attempt to demonstrate how art can address social change, the method comes across as a precarious hunch and flail.
QUEENS INTERNATIONAL 2012: THREE POINTS MAKE A TRIANGLE
5th Queens Biennial, Queens Museum of Art
February 5 - May 20 

Carmelle Safdie, July 2, 2011 (via Queens Museum) 
This lesser known __ennial from the other side of the East River features work by 31 artists who live or work in Queens. The three points–represented in three galleries–are "humble materials," "possible journeys" and a turn "inward towards home and the spiritual."  
THE UNGOVERNABLES
2nd New Museum Triennial
February 15 - April 22
Danh Vo, We The People (via Artnet)
Following 2009's The Generational: Younger Than Jesus, The Ungovernables brings together 34 artists, artists' groups, and collectives this time a little (but not much) older than Jesus, many of whom are showing in the US for the first time. The idea, NYT'sHolland Cotter clarifies, is a group show of "disobedient, mutinous enfant terribles." In actuality, he continues,
Almost throughout, it's a thing of small, light formal gestures, unemphatic in tone and socially engaged, though in an unperturbed way that accommodates friendliness and wit.
Jerry Saltz takes issue with the overabundance (and ovnecessity) of wall text. Though he offers positive remarks on several works, especially José Antonio Vega Macotela's task exchanges with Mexican prisoners, Saltz complains that curator Eugenie Joo's "Joo's diversity initiative simply allows her lineup to be as mediocre as any."
BRUCENNIAL
March 1 - April 20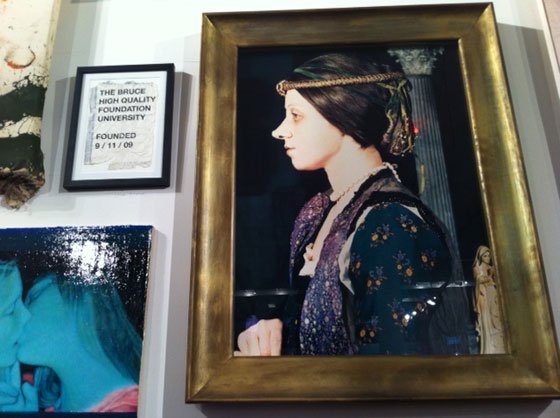 Brucennial 2012: BHQF Founding Document, a Cindy Sherman (via Art Fag City)
The (kind of) biannual and (more or less) coincident with the Whitney Biennial extravaganza–taglined Harderer. Betterer. Fasterer. Strongerer.–brought to you by the Bruce High Quality Foundation returns this year with a salon-style floor to ceiling display of even more artists (in the neighborhood of 400, including AP Participant Bradford Kessler). The roster includes the mega-famous (Damien Hirst, Jean-Michael Basquait), the respected and established (Cindy Sherman) and a whole lot of the up-and-coming and underemployed. Ken Johnson of the New York Times comments:

Like a commercial art fair, the exhibition is fun and exhilarating at first, then the diversity and quantity are numbing and, finally, depressing. So who is truly served by the Brucennial? The answer is clear: no one is cooler than the Bruce High Quality Foundation. 
Hyperalleric's Jason Andrew notes that the challenge for BHQF, after the groups inclusion in the 2010 Whitney Biennial and increased attention, will be to avoid absorption by "the establishment"
But I don't think the BHQF cares (which is their strength), and I imagine that the hundreds of artist lining up outside on Bleecker Street don't care either.